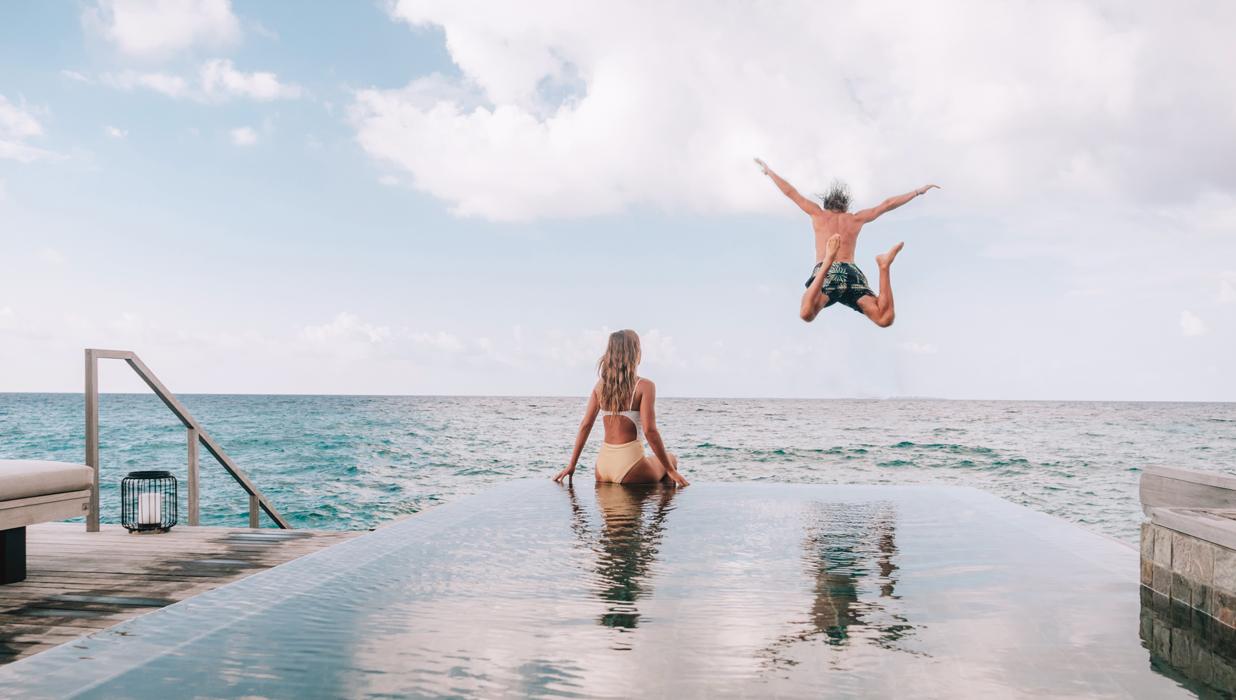 Summer is in full swing! This is an exciting time as many are venturing out into the world and beginning to travel again. Whether you are vacationing in Cabo, camping in the redwoods, drinking a margarita by the pool, or taking a walk around the neighborhood, here are some suggestions and tips for a fresh-faced glow all summer long.
A GOOD CLEANSER

Cleansing Complex is the perfect way to start the day. This clear, lightweight cleansing gel is powerful yet gentle enough for sensitive skin. Cleansing Complex combines bio-nutrients, antioxidants, and mild resurfacing ingredients that thoroughly and deeply cleanse the skin without stripping essential barrier oils. The skin is left feeling skin smooth and refreshed.




Pro Tip: Cleansing Complex can also be an excellent shaving medium. This product acts as a cleanser, toner, and mild resurfacer. Foam up Cleansing Complex with water and experience the perfect, irritation-free shave.
A REFRESHING MIST

Copper Firming Mist is a great addition to any skincare routine and the perfect summer companion. This portable mist rehydrates, protects, and balances the skin anytime, anywhere. An instant ultra-refreshing spritz of Copper Firming Mist is ideal for warm weather and active days. It provides potent antioxidant protection, while hydrating the skin and eliminating excess sebum and perspiration. Keep Copper Firming Mist in your bag for on-the-go use when skin needs a quick pick-me-up.




Pro Tip: This product can even set makeup and will not disrupt your makeup application with continued use throughout the day!
A HYDRATING SERUM

Our beloved Hydra-Cool Serum is a must-have for Summer (and year-round) to boost and maintain hydration. Designed to hydrate and revive thirsty skin, there are many ways to use this product. Hydra-Cool Serum can be layered beneath moisturizer or SPF or worn in the place of a moisturizer for those with oily skin seeking a weightless hydrator. Travel friendly, it can also be lightly patted over existing product and makeup throughout the day as a refresher. Hydra-Cool Serum is also excellent for sunburns as it instantly cools and soothes the skin.




Pro Tip: Apply Hydra-Cool Serum below your SPF or moisturizer ahead of makeup application or try mixing Hydra-Cool Serum with your liquid makeup for a dewy glow.
A 3-IN-1 SUNSCREEN

The most important item to add to your collection of products is SUNSCREEN! Try our Extreme Protect SPF 30 to protect your skin from photodamage. EP30 provides unprecedented multilevel broad-spectrum UVA/UVB protection and blends into the skin beautifully. This unique sunscreen not only protects skin from harmful UVR, but it also acts as a hydrating moisturizer loaded with antioxidant protection that offers botanical-based barrier support. If you tend to be a minimalist in your skincare routine, this all-in-one product is a must-have! After cleansing, apply EP30 and you've covered all the bases.
A TINTED SUNSCREEN

Tinted sunscreens are perfect for achieving that sun kissed look we all crave in summer months. Extreme Protect SPF 40 contains all-physical sunscreen actives, providing broad-spectrum UVA/UVB protection. Our latest SPF addition provides the same great features of Extreme Protect SPF30, but with two tint options for those who want a simple tinted glow, moisturizer, and SPF all in one. The lightweight, natural finish is available in three options: translucent, beige, or bronze.
A LIP TREATMENT

More than a lip balm, LIProtect SPF 35 conditions and moisturizes your lips while defending this delicate tissue from the damage of UVR and other environmental stressors. Keep it with you all day long for protected and healthy lips.
A POWDER SUNSCREEN

Round out your sunscreen protection with our brand new PerfecTint Powder SPF 40. Once you have applied makeup or started your day, it can often feel unrealistic to reapply sunscreen - not anymore! Carry PerfecTint Powder SPF 40 in your bag everywhere you go and easily brush it over your makeup for quick and easy reapplication. This one-of-a-kind powder sunscreen will freshen and hydrate your face while adding protection. PerfecTint Powder SPF 40 is also available in a wide variety of tints to match every complexion.
Apply these products to your skin and notice the glow that appears. You will feel fresh, confident, and protected all season with these Summer skincare essentials.