Supporting Your Skin During COVID-19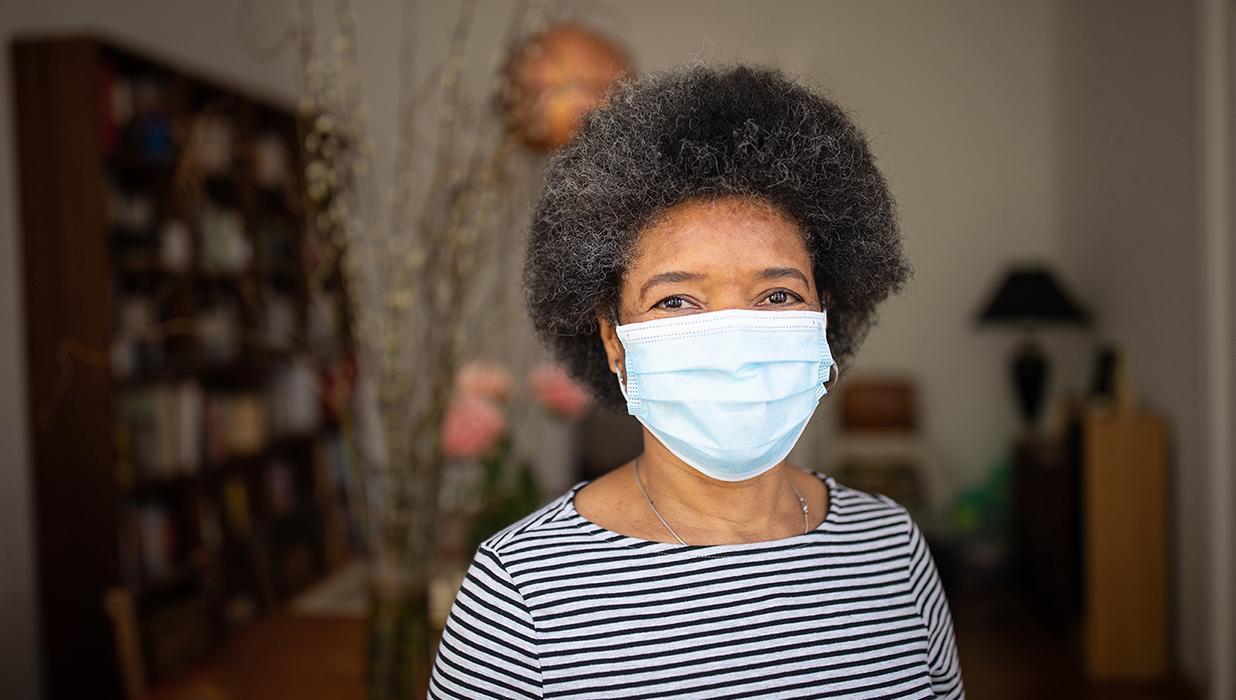 Within only a matter of a few months, our new daily lives now involve social distancing, frequent hand washing, and wearing face coverings in public. COVID-19 has taken the world by storm, but there are many measures we can take to stay healthy and flatten the curve. Based on guidelines and recommendations from The Center for Disease Control (CDC) and the World Health Organization (WHO), it is clear that the most useful thing we can do to fight COVID-19 is to practice good hygiene. While we are all taking steps to care for ourselves and help protect those around us, iS Clinical is here to support healthy skin under these new conditions.
Face Masks
Wearing a face mask everywhere you go has now become second nature. With rules and regulations making it mandatory to wear a mask out in public, it has become one of our primary defenses against combating the spread of COVID-19. Some people have noticed that while wearing a mask more often and for more extended periods is necessary for protection, some downsides include facial breakouts and irritation due to the mask continually rubbing against the face. This friction can cause irritation, redness, clogged pores, and blemishes.
As most of our partners are physicians, medical clinics, hospitals, and professional skincare experts,iS Clinical has been successfully creating products and developing regimens that deal with mask irritation for many years.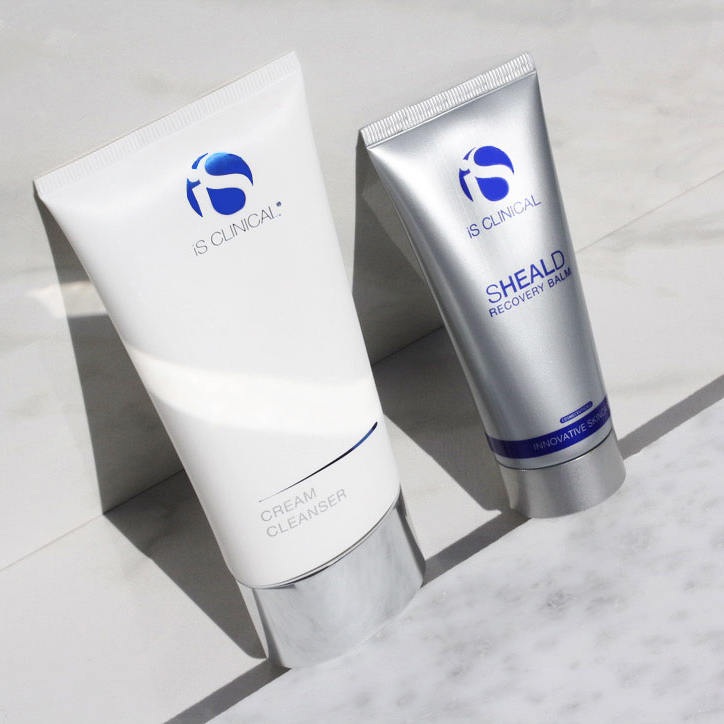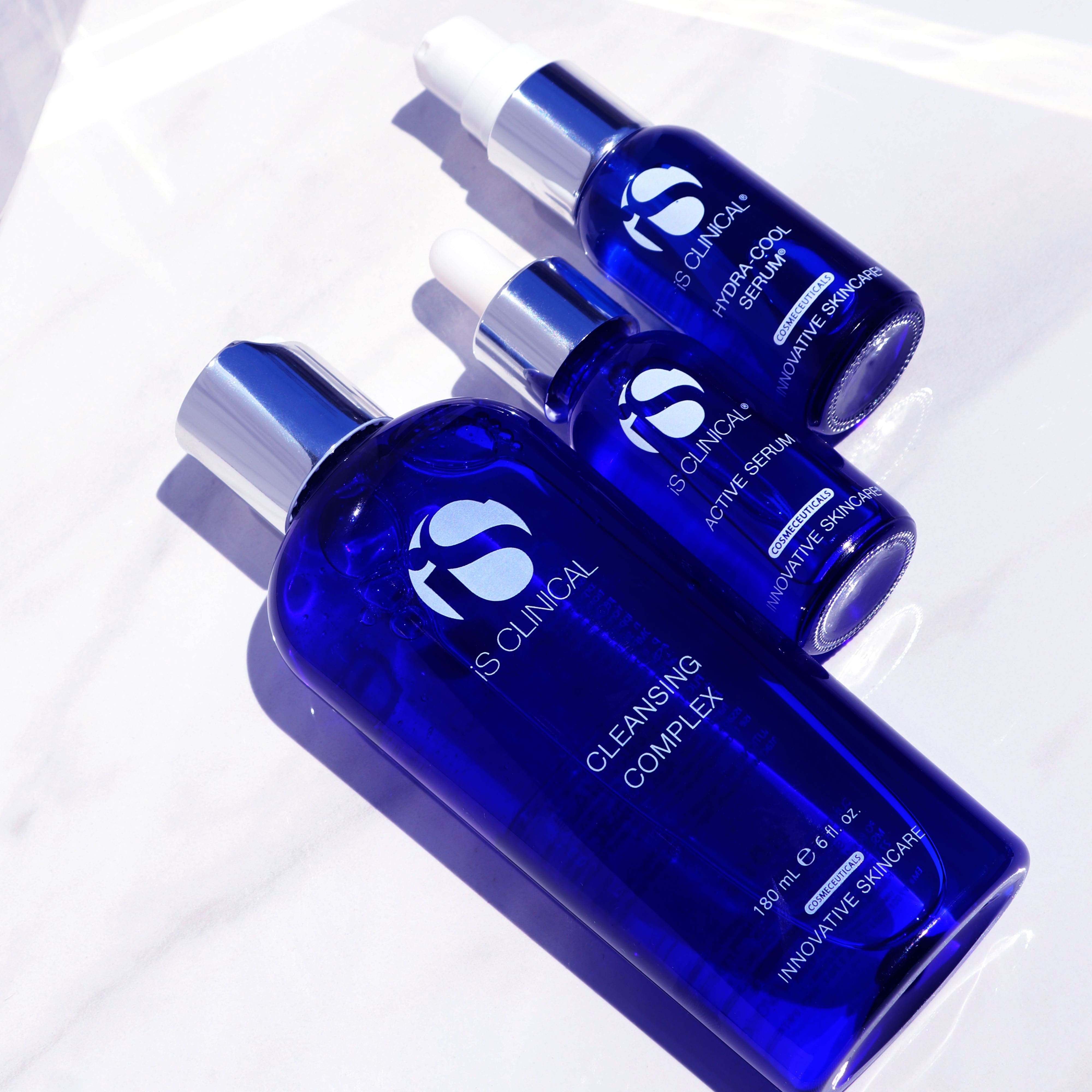 For redness, irritation, and compromised skin, a basic calming regimen of Cream Cleanser to deeply cleanse and help support compromised skin (can be easily removed with or without water), followed by SHEALD Recovery Balm. This excellent Treat/Hydrate formula provides an antioxidant-rich protective barrier and relieves itching or tight sensations associated with healing skin.
For blemishes and clogged pores due to mask irritation, iS Clinical suggests a clearing regimen using Cleansing Complex, Active Serum, and Hydra-Cool Serum may be helpful. Begin by washing your face with Cleansing Complex, which acts as a cleanser and toner in one and deeply cleasnes without drying out the skin. Follow with 3-5 drops of Active Serum, apply to the palm of your hand and then gently dab and smooth over the face. The active, tingly serum helps to improve the appearance of blemishes and provides both short and long-term results. Finish this regimen with a drink of water for your skin: Hydra-Cool Serum, which helps to calm, cool, and soothes the skin.
Hand Washing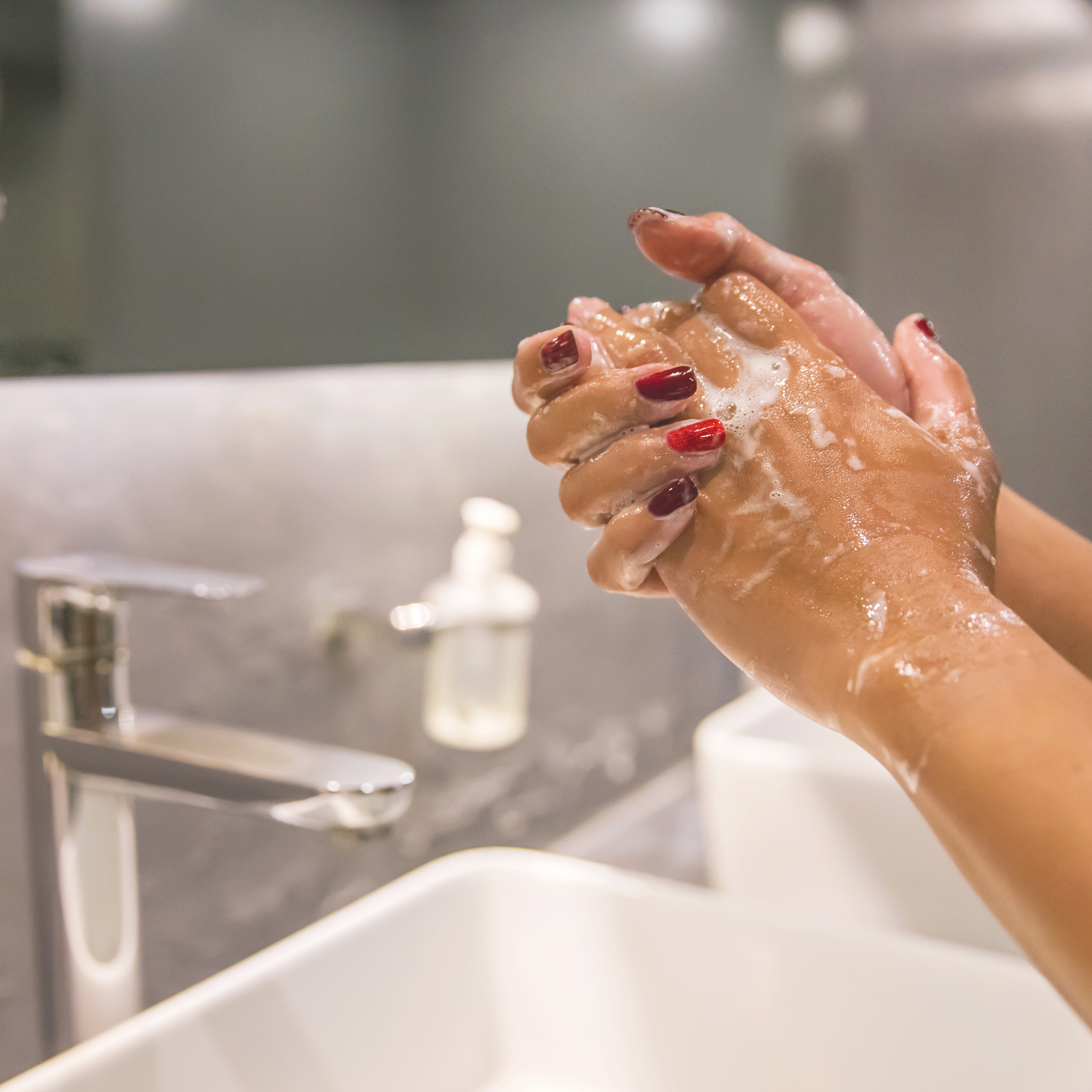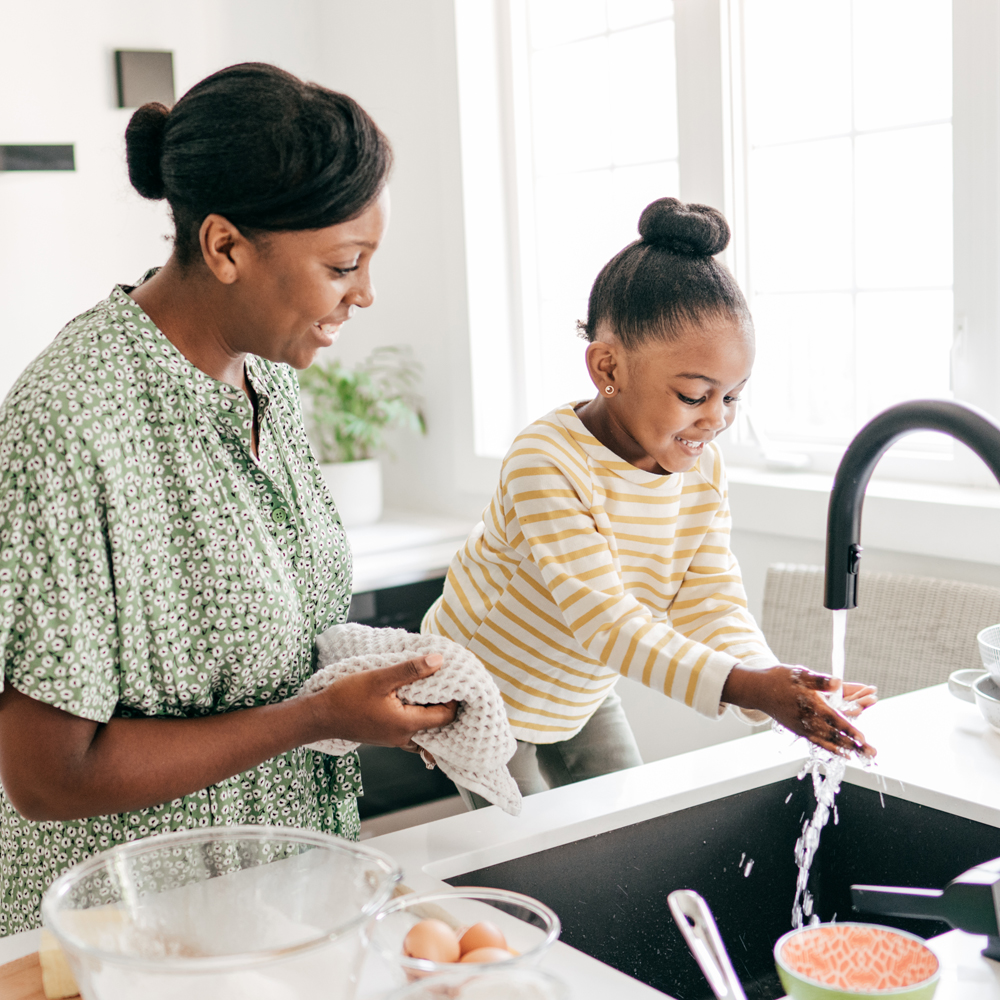 Hand washing has become a helpful tactic in fighting the spread of COVID-19. We are constantly touching everything around us, whether we realize it or not. Frequent hand washing is something we should all be doing to flatten the curve and lessen the spread of germs. Frequent hand washing with soap and warm water can be very drying. This activity can strip the protective barrier on our hands, causing dryness, cracking, irritation, itching, and discomfort. iS CLINICAL offers several products to combat the effects of frequent hand washing and promote a healthy skin barrier. For hands that are feeling the effects of more frequent hand washing, products such as Cream Cleanser, Pro-Heal Serum Advance+ and SHEALD Recovery Balm can offer relief from discomfort and help increase the functioning of the skin's barrier.
Tired Eyes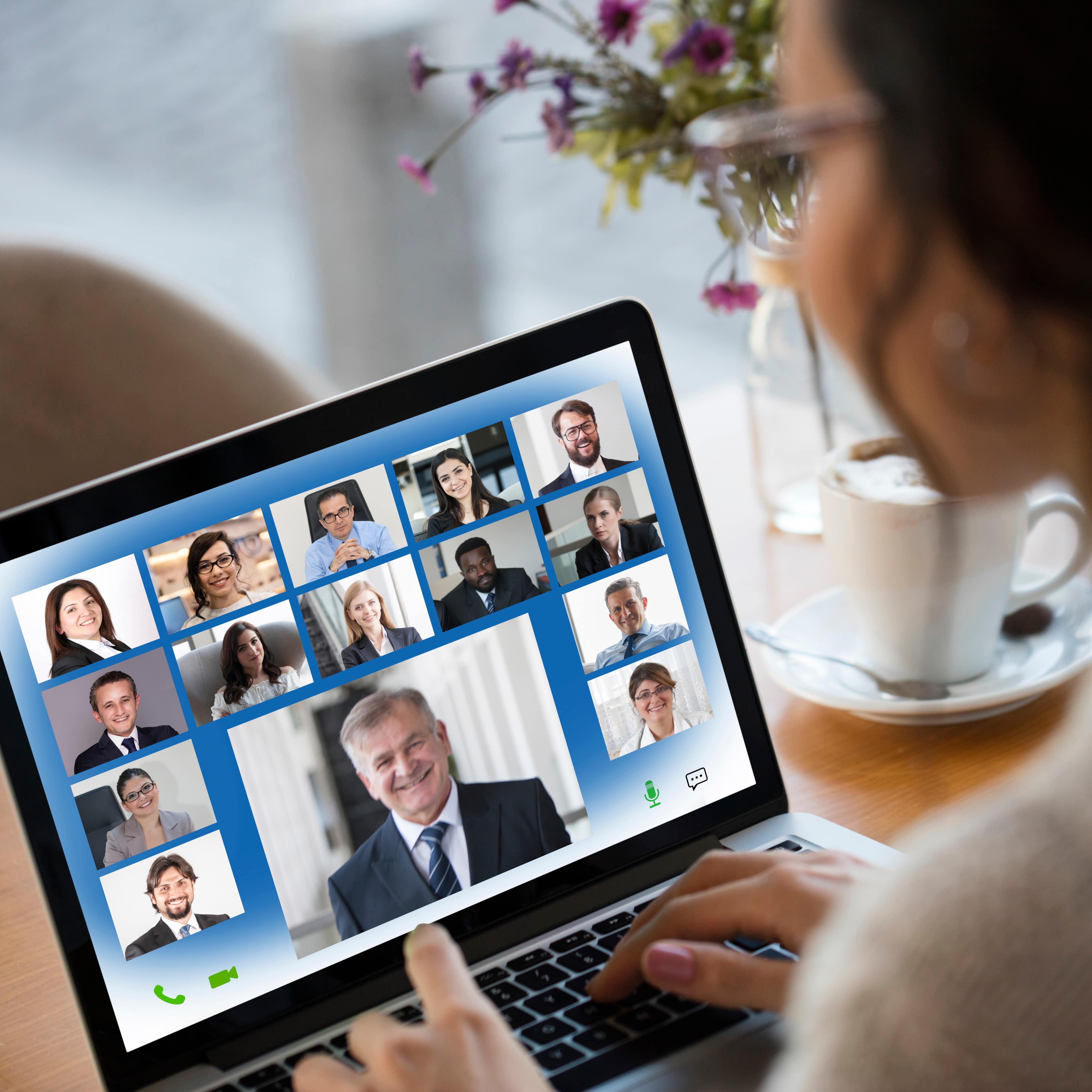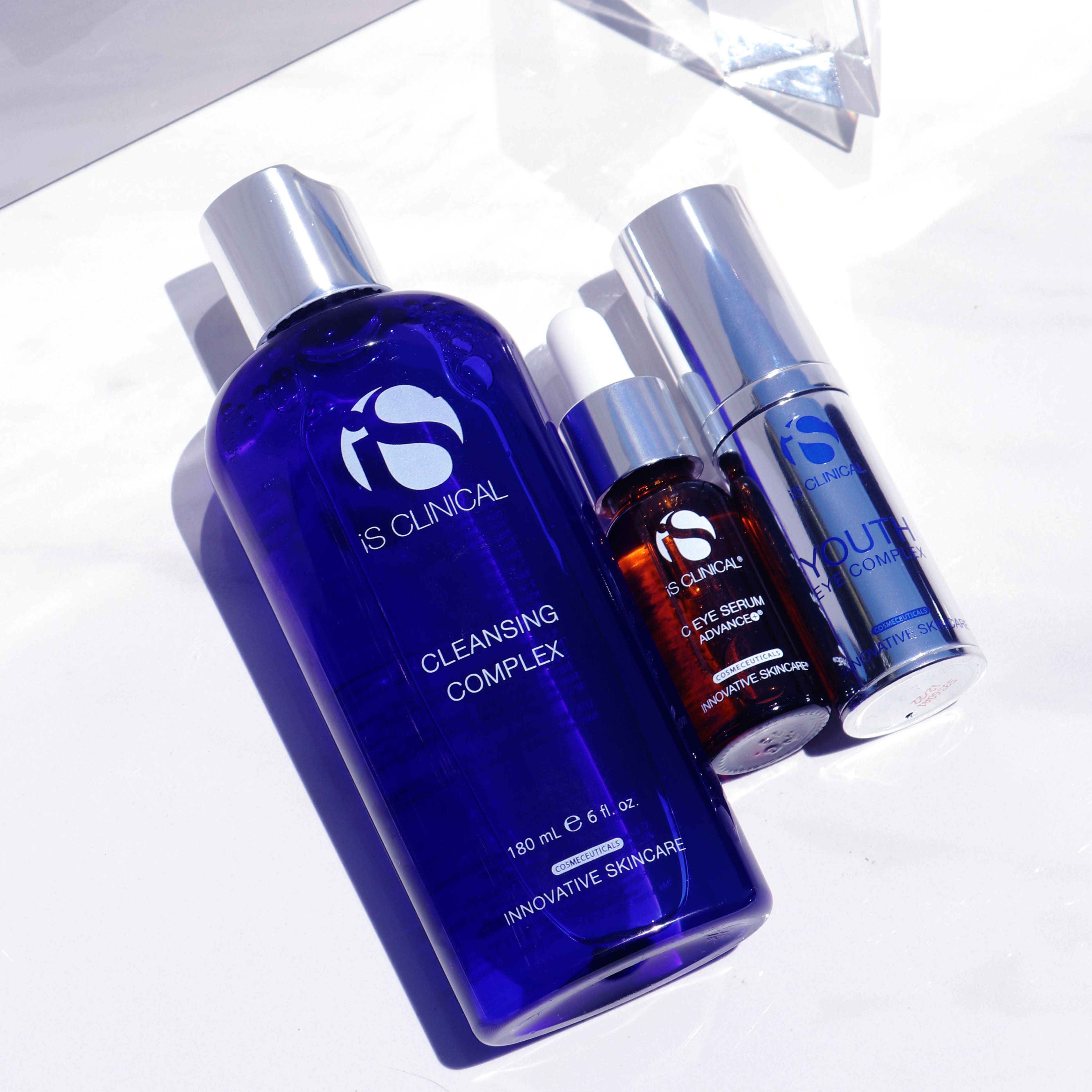 With the stay at home safety recommendation being announced a lot more people are now working from home and increasing their screen time to stay occupied. The main downfall of increased screen time is tired and puffy eyes. There are several ways to combat tired and puffy eyes, such as decreasing your screen time, cool compresses, and using skincare products formulated specifically to care for the delicate skin around the eyes.
iS Clinical offers several products designed to help revive the eye area. Products such as Cleansing Complex, C Eye Serum Advance+, and Youth Eye Complex help to soothe and refresh the under-eye area and reduce the appearance of tired eyes. Cleansing Complex is a gentle and effective 3-in-1 cleanser that removes makeup without drying the skin. Follow with 2 drops of C Eye Serum Advance+, apply to the palm of your hand and dab evenly over brow bone and delicate eye area. Follow up with ½ pump of Youth Eye Complex and smooth evenly over brow bone, outer areas of eye, and delicate under-eye area.
As the COVID-19 pandemic continues,iS Clinical is continuing to take proactive measures to protect the safety of our employees, maintain the quality standards of our products, and to support our partners and distributors worldwide. By supporting our communities and taking the recommended precautionary safety measures, we will all get through these unprecedented times together.