The Cosmeceutical Approach to Rosacea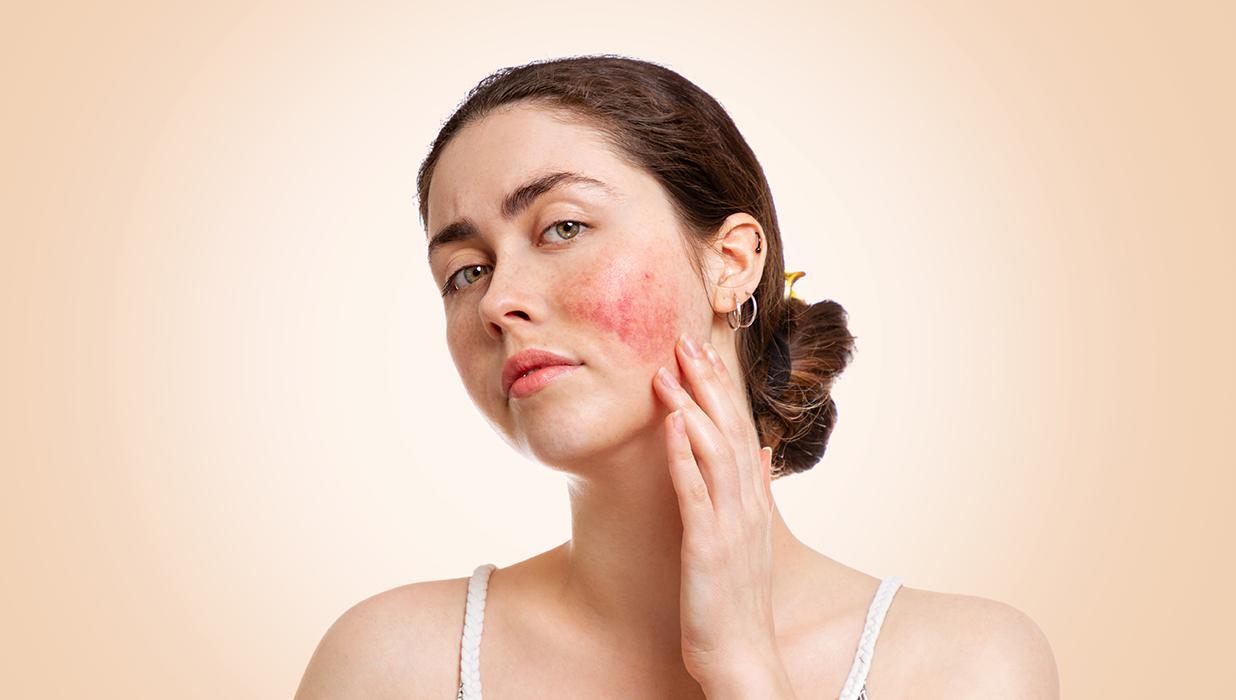 Redness, blushing, prominent small blood vessels, and bumps…could it be rosacea? We have previously explored the basics of rosacea and some common treatments that conventional medicine can offer. Now let's dig deeper into more natural options and learn other ways to fight back against this inflammatory condition to reveal calm and healthy skin.
Rosacea vs. Acne
Rosacea and acne can have some similar features such as inflammation and bacterial overgrowth. These similarities mean that rosacea can also benefit from some of the same cosmeceuticals as acne. However, the focus with treating rosacea is on reducing inflammation instead of addressing comedones.
Cosmeceutical Treatments for Rosacea
Antioxidants

Topical antioxidants are recommended for treating rosacea holistically because oxidation is inflammatory and can increase rosacea. An added benefit to antioxidants is that many are well-tolerated and have little to no side effects. Some of the most common antioxidants used for rosacea include:




Resveratrol
Olive Leaf Extract/Oleuropein
Vitamin A
Vitamin C

Vitamin E
Zinc
Barberry
Magnolia (Honokiol and Magnolol)

Probiotics

Some research has shown that supplementing with oral probiotics may have a beneficial effect on rosacea. However, these studies are limited and it is always recommended to consult with your physician or skin care professional prior to introducing any new treatments to your regimen.
Desquamation Agents

Active ingredients that encourage exfoliation, the normal shedding of devitalized skin cells, can help promote a healthier skin cell turnover. With rosacea, there is often buildup of excess skin debris.




Vitamin A and its derivatives like tretinoin (Retin-A) and isotretinoin (Accutane) may be helpful, but can also increase irritation with troubling side effects.
Alpha Hydroxy Acids (AHAs) are common desquamation agents but may be irritating to the skin with rosacea, especially if too strong or in certain formulations.
Glycolic Acid is the most common AHA, and is beneficial if properly formulated. As the AHA with the smallest molecular size, it has the most rapid absorption, which also causes it to potentially be the most irritating.
Beta Hydroxy acids (BHAs) are helpful in cleansing debris from pores and assisting with healthy skin cell turnover. The most common BHA is Salicylic Acid. Salix Alba, or White Willow Bark, serves as a botanical source of BHAs.
Botanical resurfacing enzymes like Papain and Bromelain found in papaya and pineapple may also be used.
Aesthetic Treatments
Professional treatments in rosacea patients should only be selected with the advice of a physician or skin care professional who is familiar with rosacea. This is because some, but not all, treatments may increase inflammation.
---
Relieve Rosacea with Cosmeceuticals
Cream Cleanser

Quality cosmeceutical cleansers can offer a balance of helpful ingredients to help calm rosacea. Cream Cleanser can help reduce inflammation and minimize the visible signs of rosacea.




Cream Cleanser combines bio-nutrients, antioxidants, and restorative ingredients that work to thoroughly cleanse the surface and pores of the skin while soothing, helping provide a proper water balance, and leaving the skin feeling refreshed.
Pro-Heal Serum Advance+

Pro-Heal Serum Advance+ provides extremely powerful antioxidant protection that helps to calm inflammation. This scientifically advanced formulation combines L-Ascorbic Acid with Olive Leaf Extract and pure Vitamins E and A to improve the appearance of compromised skin.
Copper Firming Mist

Copper Firming Mist helps support the skin's natural balance by featuring Copper PCA to normalize sebum production. This refreshing treatment mist provides potent antioxidant protection and is instantly hydrating, smoothing, and firming.
Hydra-Cool Serum

Hydra-Cool Serum is a refreshing serum that cools, calms, and soothes irritated skin. It combines superior antioxidants with essential botanicals and bio-nutrients that is are gentle enough for even the most sensitive skin.
Rosacea can be a frustrating skin condition, but there are many ways to help visibly reduce redness, inflammation, and other symptoms with effective solutions. Cosmeceutical products offer a range of options that provide relief and encourage a foundation for healthier, calmer skin. Visit Professional Services to find a partner and learn more about the cosmeceutical options you have to manage your rosacea today!